Online Land Sales LLC exists to display quality land parcels for sale. BUY THE LOT BELOW ON Landbidz.com TODAY!




Featured Item:
5 Acres, San Bernardino, CA.

5 Acres, San Bernardino, California

0489-032-11-0-000
S ½ NW ¼ NW ¼ SE ¼ SEC
16, T11N, R2W Exc. Mineral Rights
5 ACRES 330' x 660'
(217,800 Square Feet)

 
This large 5 Acre parcel is located in HINKLEY AREA of San Bernardino County, Southern California. The parcel is rectangular in shape and 330' x 660' in size (217,800 square feet), and is located just southeast off of Grasshopper Road, approximately 2.25 miles east of Hinkley Road, 6 miles northeast of Hinkley and 10 miles east of Lockhart. Highway 58 is about 7 miles south of the property and Interstate 15 is approximately 11 miles away. In addition, EDWARDS AIRFORCE BASE IS ONLY 30 MILES FROM THE PROPERTY, Barstow is about 13 miles southeast, and Bakersfield and Los Angeles are both about 125 miles away.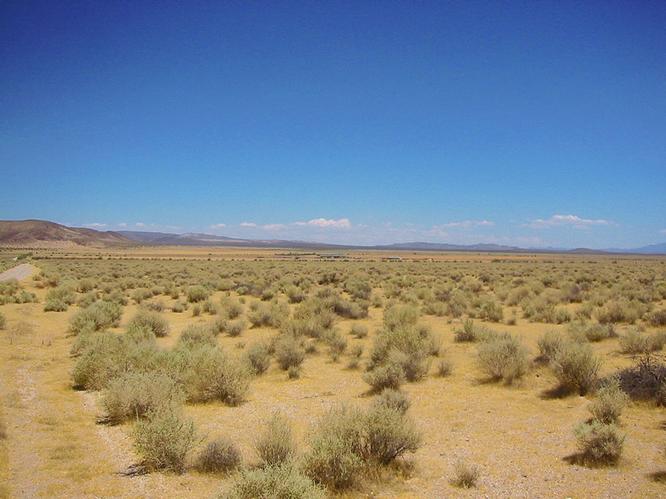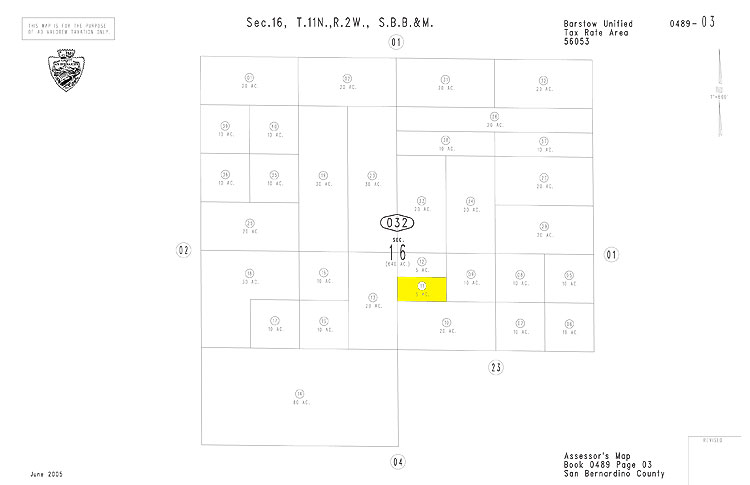 INVEST or RESELL!

Size:

5 Acre

Utility Infrastructure:

County:

San Bernardino

Taxes: Less Than $30 Per Year & Current


Cities Near Lot

Barstow
Location of Land

Latitude/Longitude 35.0460°N, 117.0938°W ( 35°, 2', 45.5" N; 117°, 5', 37.8" W )


The legal description is: California, San Bernardino Meridian T11N,R2W,sec16


UTM zone 11 (X,Y) 491442 , 3878145




The elevation is 866 m ( 2840 ft )
The gradient is: 7.9 percent
The aspect direction is: 152.4 degrees or SE
The local roughness is: 5.8 or average
The location as decimal degrees (X,Y;Z) = -117.0938, 35.0460; 866 m

The state and county are California: San Bernardino County 6071
The HUC is Coyote-Cuddeback Lakes 18090207; Place point in HUC
The Omernik ecoregion is Southern Basin and Range (more typical) 14
The 1:100,000 map (if available); Switch to TerraServer
Zoom on that location with radius = 2 km; 5 km ; 10 km ; 20 km ; 30 km ; custom.

Nearby named places (in order by distance)

Fossil Canyon mouth; California: San Bernardino Co.

-117.1142, 35.0419

at a distance of 1910 m
Coon Canyon mouth; California: San Bernardino Co.

-117.0798, 35.0225

at a distance of 2905 m

Information

San Bernardino County is part of the Inland Empire area of Southern California, which also includes Riverside County. At just over 20,000 square miles (52,000 km2), San Bernardino County is slightly larger than the states of New Jersey, Connecticut, Delaware and Rhode Island combined. It is the largest county in the Continental Unites States. It is the only county in California bordered by both Nevada and Arizona, and is one of only two counties in California bordering more than one U.S. state (the other being Modoc County, bordering Nevada and Oregon in the northeast corner of the state).
The bulk of the population, roughly 1.6 million, live in the roughly 480 square miles south of the San Bernardino Mountains adjacent to Riverside and in the San Bernardino Valley. Another 300 thousand plus live just north of the San Bernardino Mountains, agglomerating around Victorville covering roughly 280 square miles in Victor Valley, adjacent to Los Angeles County. Another roughly 100 thousand live scattered across the sprawling county.
Payment

Payment: Payments accepted via cashiers check, credit card, or direct debit to a bank account. More...

Online Land Sales LLC is available 9 to 5 (PST), (530) 725-8671, (866) 878-8334, 24 hour email: service@onlinelandsales.com, or use the Contact page.

Processing Fee: A nominal documentation/closing fee of $120 will be added to the winning bid on this property. Deed and county recording information will be mailed to purchaser upon receipt of payment. Deed Vesting Details

Disclaimer: All listed properties are sold on an "as is" basis. Potential purchasers are encouraged to examine the properties prior to placing bids. The information contained in this listing is "true and accurate" to the best of Online Land Sales' knowledge. Online Land Sales does not make any guarantee expressed or implied regarding the information in this listing. Online Land Sales encourages purchasers to invest with confidence as Online Land Sales holds itself out to have the highest integrity.

All purchases from the Online Land Sales (Online Land Sales LLC) group of companies, including this transaction, are 100% money back guaranteed. The group owns Landbidz.com, the online land auction community, and multiple land stores at eBay, Bid4assets, Bidz, and Overstock.